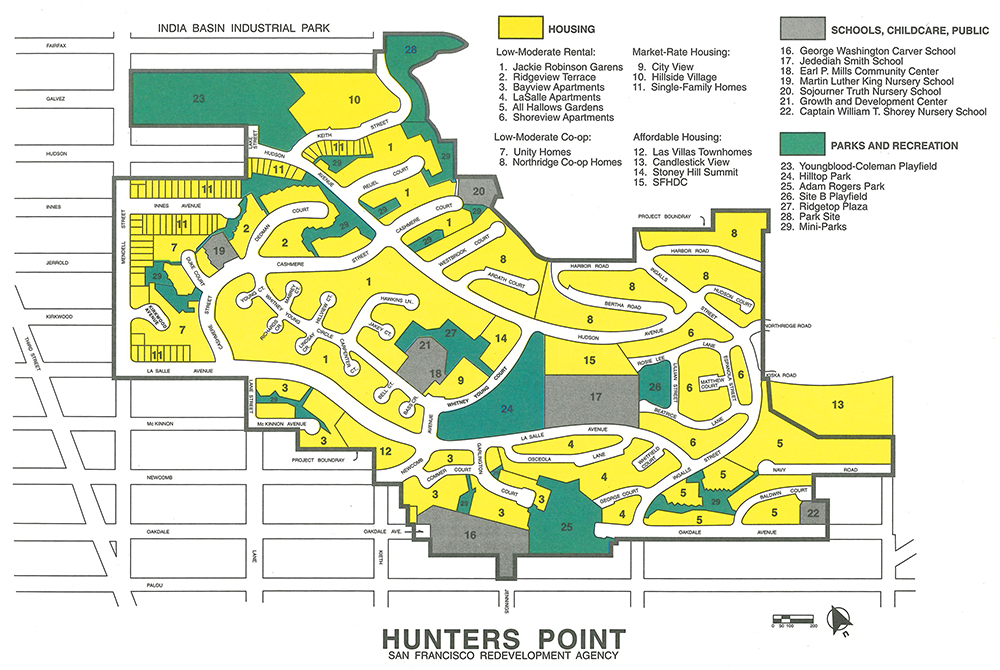 Date Established: January 20, 1969
Date Plan Last Amended: December 12, 1994
The Hunters Point Redevelopment Area is a new residential community with supporting commercial, educational and recreational uses. New infrastructure system and street patterns were the significant beginnings of what is now a vibrant residential community.
Prior to redevelopment, the 137-acre hill area was partly vacant land largely occupied by temporary wartime housing built by the federal government during World War II. The land was subsequently turned over to the San Francisco Housing Authority for it's housing program. The community in Hunters Point was largely responsible for getting the federal government to declare this area a redevelopment project in order to minimize the displacement of low-income residents. The large amount of vacant land in the area permitted the Agency to begin its new development program by constructing new low-to-moderate-income housing. When relocation was necessary, households were able to move from the old wartime housing into newly constructed units.
Approximately 1,750 units of new housing have been constructed and 122 units of housing were rehabilitated in the Hunters Point Area. Another 27 units are under construction. One hundred percent of the units are for households of low to moderate-income. All the housing is designed to take advantage of the natural beauty and spectacular views of their hillside location.
The Board of Supervisors adopted the Redevelopment Plan for the Hunters Point Redevelopment Project Area on January 20, 1969. Under a Master Plan designed by architect Aaron G. Green, the Hunters Point Redevelopment Area has been developed as a new residential community with supporting community facilities and improved street patterns. The Hunters Point Redevelopment Plan was amended on December 12, 1994 to incorporate new State law requirements on spending limits and to extend the life of the Plan to 2009.
Housing
Completed

Scheduled

Total

New housing units

1,750

41

1,791

Rehabilitation units

122

0

122

Total housing developed

1,872

41

1,913
There are three parcels remaining to be developed with 41 units of housing under the Agency"s affordable home ownership program. These are Site EE-2 (27 units), Site FF-2 (2 units) and Site X (12 units). Site EE-2 is located at Hudson and Whitney Young Circle. Site FF-2 is a small, 3,750 square foot lot, located at Keith and Oakdale Streets. Site X is located at Keith and Hudson Streets.
Parks & Recreation
Hilltop Park:
a 3.4 acre park in the center of the Project Area on Whitney Young Court.
Adam Rogers Park:
a 2.8 acre park near Oakdale and Ingalls
Youngblood-Coleman Playfield:
a 6.7 acre recreation area at Galvez and Mendell Streets
Shoreview Park:
a half acre neighborhood park adjacent to Shoreview Apartments
Community Facilities
A Neighborhood Facilities Grant provided funding for the following:
Earl P. Mills Neighborhood Center
Whitney Young Child Development, 100 Whitney Young Circle
Schools
Sojourner Truth Elementary School, 1 Cashmere Street
Martin Luther King Nursery School, 200 Cashmere Street
Captain William T. Shorey Nursery School, 1030 Oakdale Avenue
George Washington Carver Elementary School: a new school situated on 2.5 acres on Oakdale Avenue. It was constructed in 1974 by the Redevelopment Agency. The building is leased to the City for use by the San Francisco Unified School District.