The Transbay Redevelopment Plan ("Transbay Plan") was adopted in June 2005.   The Transbay Plan, its Design for Development, and its Open Space and Streetscape Plan call for the redevelopment, rehabilitation, and revitalization of the area generally bounded by Mission, Main, Second and Folsom Streets in downtown San Francisco. 
The Transbay Redevelopment Project Area ("Project Area", see map below) consists of approximately forty acres of land that previously contained the now-demolished Embarcadero Freeway and ramps to the former Transbay Terminal, which were heavily damaged by the 1989 Loma Prieta earthquake, and surrounding properties.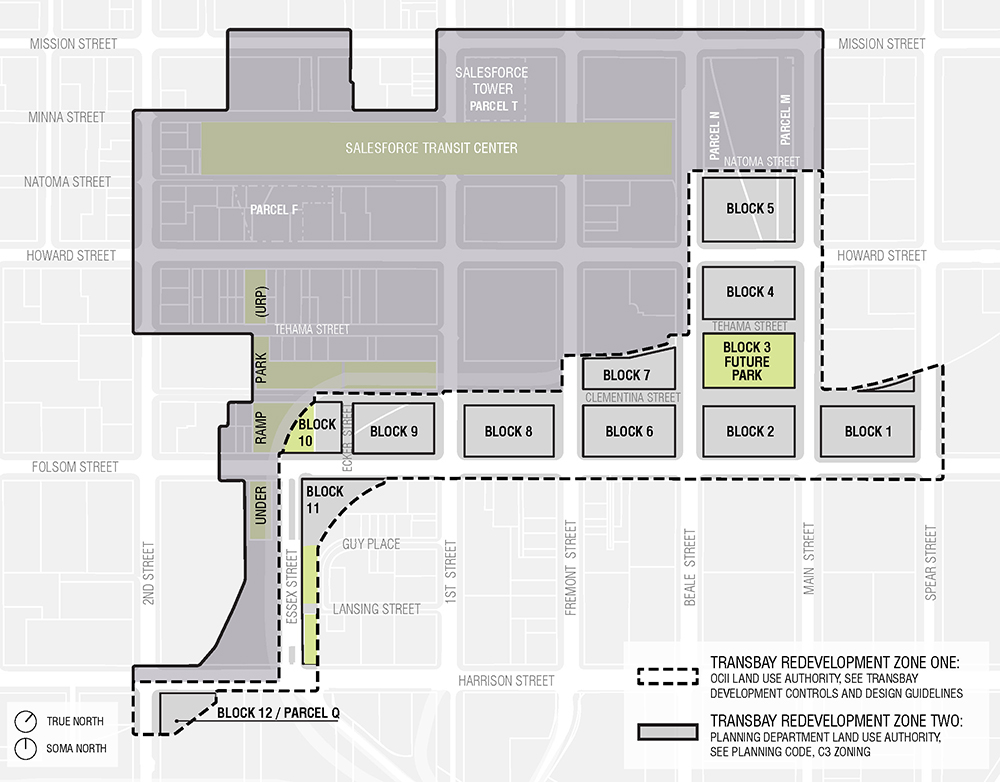 Transbay is divided into two zones. OCII has land use authority over Zone One, which is located in the southern portion of the Project Area. The Transbay Plan and its Development Controls and Design Guidelines direct the transformation of Zone One from public land previously occupied by the former freeway and ramps into a new, master-planned, high-density, mixed use/residential community. Zone Two is in the northern portion of Transbay and includes the Salesforce Transit Center, Salesforce Tower, and mostly commercial properties along Mission and Howard Streets. Zone Two falls under the land use authority of the San Francisco Planning Department, under the Transbay Plan and the Transit Center District Plan, as provided for in the Transbay Delegation Agreement between the former Agency and the Planning Department.
The Transbay Joint Powers Authority ("TJPA") was created to construct the Salesforce Transit Center and the Caltrain Downtown Extension project. OCII and the TJPA are responsible for executing the Transbay Plan, pursuant to a 2005 Implementation Agreement. Other agreements that enable the redevelopment of Transbay are between TJPA, OCII, the City and County of San Francisco, and the State of California, and include the Transbay Transit Terminal Cooperative Agreement, the Option Agreement for the Purchase and Sale of Property between the City and County of San Francisco, the TJPA and the Redevelopment Agency, and, the Transbay Redevelopment Project Tax Increment Allocation and Sales Proceeds Pledge Agreement.
When fully built out, Transbay will deliver new construction shown in approximate figures in the table below. 
TRANSBAY DEVELOPMENT PROGRAM

Total Housing

3,800 units

Affordable Housing

1,400 units

Parks and Open Space

3.5 acres

Office and Retail Space

800,000 square feet
Data as of June 30, 2021
Note: Housing amounts are for Zone One and Zone Two. Parks and Open Space and Office and Retail Space are for Zone One only.
For more information regarding this project area, contact Benjamin Brandin, Project Manager at Benjamin.Brandin@sfgov.org.