Embarcadero – Lower Market (Golden Gateway)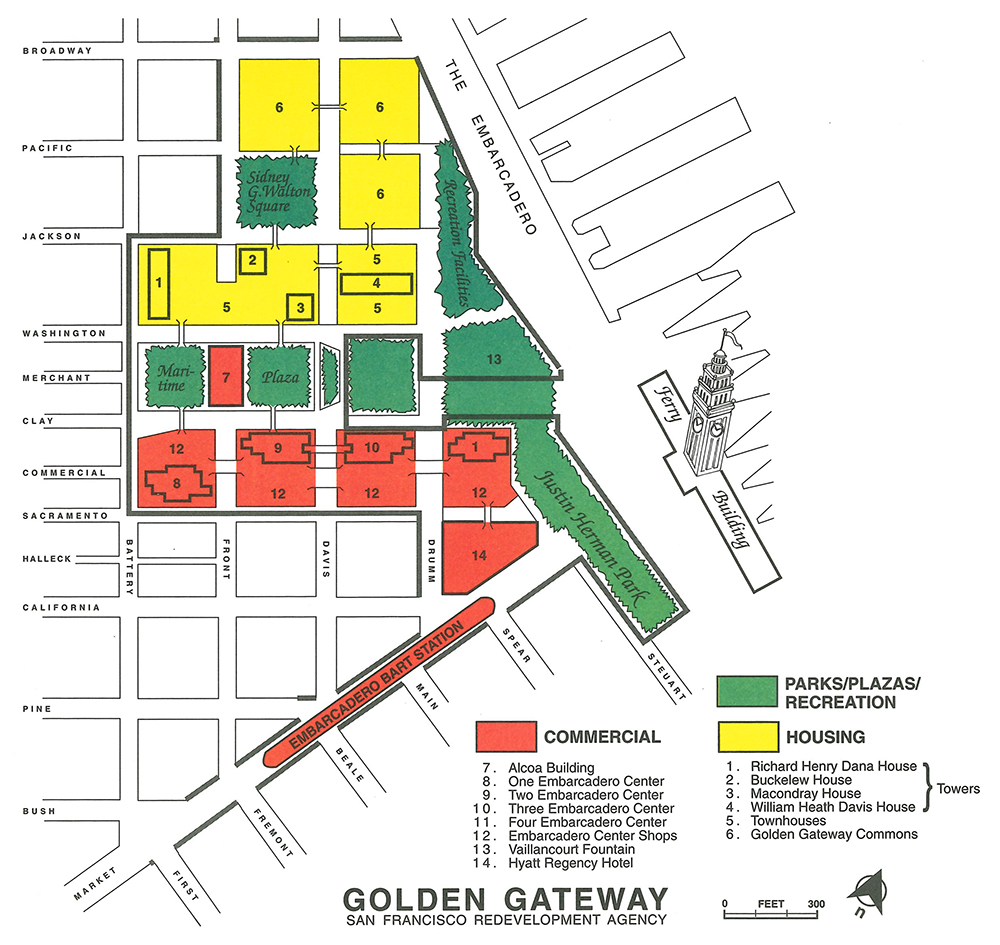 Redevelopment Plan (PDF) - 3.23 Mb

Date Established: May 25, 1959

Date Plan Amended: November 20, 1994

Merger: November 20, 1995

Golden Gateway is the former location of San Francisco's dilapidated, congested marketplace for wholesale produce. With the assistance of the Redevelopment Agency, most of the produce firms were re-established in a modern produce terminal built for them near Islais Creek.

Implementation of the Golden Gateway Redevelopment Project began in the early 1960's and has generated 1,400 new housing units, the construction of the 3.5 million square foot Embarcadero Center complex of offices, shops, an 840-room hotel and some 12 acres of public plazas and open space.

The project's HUD Loan and Grant Contract was closed out on February 5, 1981. All construction was completed by late 1986.

Currently the project area generates approximately $12 million annually in new property taxes as well as significant annual sales, payroll, hotel and parking taxes. Since 1980, the Project has generated upwards of $100 million in property taxes for the City and County of San Francisco.

The demolition of the Embarcadero Freeway and the rebuilding of the Embarcadero Roadway has created the potential of expanding the existing Justin Herman Plaza into vacated areas along the Embarcadero Roadway and into the Clay/Washington Street Corridor. The proposed renovation of the Ferry Building and development of a plaza surrounding it, this site of the City's early waterfront beginnings and has become an important "world class" open space. It provides an even greater attraction for local residents and visitors to the City.

HOUSING. Phase I of the residential portion of the project was started in August 1962 and completed in 1965. It consists of one 22-story slab containing 400 dwelling units, two 178-unit towers, each with 25 stories, and 38 townhouses. All units are constructed over two-story garage blocks with pedestrian bridges connecting landscaped plazas on the garage tops. Beneath the residences are parking facilities for 598 cars and 45,000 square feet of commercial space at street level.

Phase II construction began in October 1964 and was completed in April 1967. It consists of one 22-story slab building containing 440 dwelling units and 20 townhouses, also built over two-story garage blocks. Beneath the residences are a 329-car garage, 8,000 square feet of neighborhood commercial facilities, and a 7,200 sq. ft. health club. Also part of Phase II are a tennis club and outdoor swimming pool completed in 1968.

Phase III, known as Golden Gateway Commons, was started in 1978 and completed in 1985. It is a residential/commercial complex consisting of three two-story, block-square, base structures with offices and stores surrounding off-street parking. Two-story townhouse and three-story condominium structures with ample landscaping are constructed above the base. Phase III includes over 237,900 square feet of commercial area, 155 dwelling units, garage space for 550 cars and recreational facilities.

COMMERCIAL. The Alcoa Building, an office building with 24 office floors, contains approximately 400,000 square feet of net rentable space. The structure is built over a 1,325-car public garage. Construction was completed in November 1967.

The Embarcadero Center, a five-block complex includes four office buildings, with approximately 3 million gross square feet; an 840-room hotel (The Hyatt Regency); shopping facilities; and a 2,000-car garage. The Center's three-level shopping gallery contains 270,000 square feet of shops and restaurants spread over a four-block area. Interconnecting bridges and walkways enable the shopper to tour the entire 8.5-acre development without ever encountering vehicular traffic. It was completed in 1981.

PARKS AND RECREATION. Sydney G. Walton Square, open to the public, is a private two-acre park at ground level and was built as part of the Golden Gateway Center and maintained by the Golden Gateway Center. Maritime Plaza,  a two-acre plaza surrounding the Alcoa Building with two single-story structures containing a bank and a restaurant, was dedicated for public use in 1968.

The plaza is connected to Golden Gateway Center and Embarcadero Center by pedestrian bridges. The Justin Herman Plaza is an eight-acre park along the Embarcadero located at the foot of Market Street from the Muni Turnaround to Washington Street. The first phase, which adjoins the Hyatt Regency Hotel and entertainment facilities of the Embarcadero Center, contains a broad brick-paved plaza, landscaping with trees and grassy areas and a pool with a large fountain. The remainder will be developed along with the Mid Embarcadero Roadway program.

TRANSPORTATION. The Embarcadero Bay Area Rapid Transit (BART) station was not included in the original BART District's system. Subsequent events demonstrated the importance of a station to serve the area northeast of the Montgomery Street Station so the San Francisco Redevelopment Agency financed construction of a basic shell structure for the Embarcadero BART Station with $13,150,000 in tax allocation bonds. The station was completed and started service in 1976.

FISCAL MERGER WITH OTHER PROJECT AREAS. In recent years, the Golden Gateway project area has been merged with other project areas in order to use its tax increment to finance housing and other developments.