Hunters Point Shipyard Phase 1 - Overview
The San Francisco Board of Supervisors adopted the Hunters Point Shipyard Redevelopment Plan ("HPS Plan") in July 1997. The HPS Plan calls for the redevelopment of United States Navy lands constituting the former Hunters Point Naval Shipyard, proceeding on a multi-phased timeframe determined by the Navy's ultimate transfer of remediated land to the San Francisco Redevelopment Agency (now OCII). The Hunters Point Shipyard Redevelopment Project Area is located on San Francisco Bay in the southeastern corner of the City. It is divided into two phased sub-areas: Phase 1 and Phase 2 . 
HPS Phase 1 is identified as the Hunters Point Hill Residential district in the HPS Plan. It is a 75-acre residential neighborhood currently under development and comprised of two areas: the Hilltop at the northeastern portion of Phase 1, and the Hillside at the southwestern portion.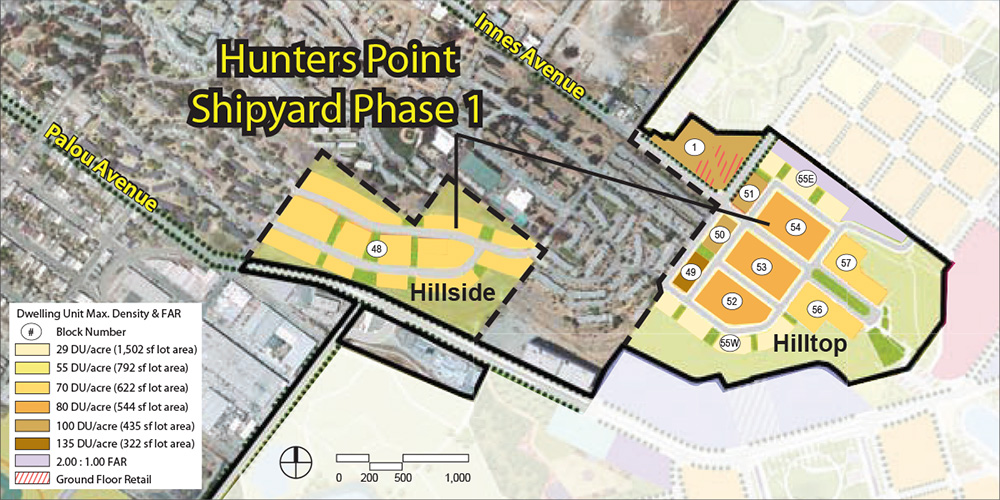 The Navy transferred HPS Phase 1 to the San Francisco Redevelopment Agency for redevelopment purposes in 2004, which subsequently transferred the land to HPS Development Company, LLC (Lennar) to construct horizontal infrastructure and vertical development pursuant to a 2003 Disposition and Development Agreement.
In addition, development in HPS Phase 1 is governed by the HPS Plan and its relevant accompanying documents, such as the Design for Development Hunters Point Shipyard Redevelopment Project Phase 1 , which lays out the design objectives, development standards and design guidelines for new construction. The design of open spaces and streetscapes have been established by the approval of various documents accessed here. Design review in HPS Phase 1 follows the HPS Phase 1 Horizontal Design Review and Document Approval Procedure for Infrastructure Development and the HPS Phase 1 Vertical Design Review and Document Approval Procedure.
As the developer of HPS Phase 1, Lennar has agreed to provide certain community benefits as part of its obligations under the Disposition and Development Agreement, which can be reviewed here. The redevelopment of HPS Phase 1 is also administered under the Interagency Cooperation Agreement, in which City and County of San Francisco departments commit to implementing the Infrastructure Plan.
When fully built out, HPS Phase 1 will deliver the land uses shown in approximate figures in the table below. 
 
| | |
| --- | --- |
| Total Housing | 1,428 units |
| Affordable Housing | 407 units |
| Parks and Open Space | 24 acres |
| Neighborhood Commercial Space | 20,000 square feet  |
For more information regarding this project area, contact Lila Hussain, Senior Project Manager at Lila.Hussain@sfgov.org.