Hunters Point Shipyard Phase 2 Candlestick Point - Open Space
The Candlestick Point-Hunters Point Shipyard Phase 2 project will provide approximately 340 acres of new and improved parks, open space and habitat areas to the  Bayview Hunters Point community, including waterfront parks and trails along approximately nine miles of San Francisco Bay shoreline.
In 2018, the Candlestick Point / Hunters Point Shipyard: Parks, Open Space, and Habitat Concept Plan was adopted to guide the development of an extensive parks and open space system for this urbanizing area. These areas cover nearly half the project's acreage and represent San Francisco's largest park development since Golden Gate Park.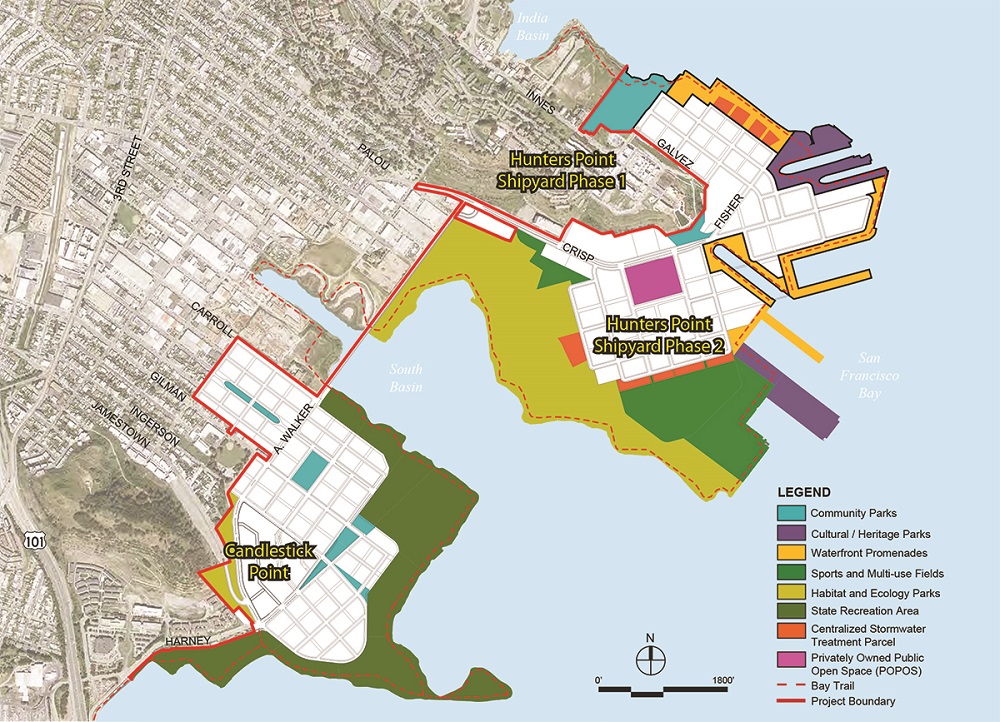 The CP-HPS Phase 2 project includes a total of 337.7 acres (CP - 105.7 acres and HPS Phase 2 - 232 acres) of existing shoreline parkland and open space in the Candlestick Point State Recreation Area (see map below).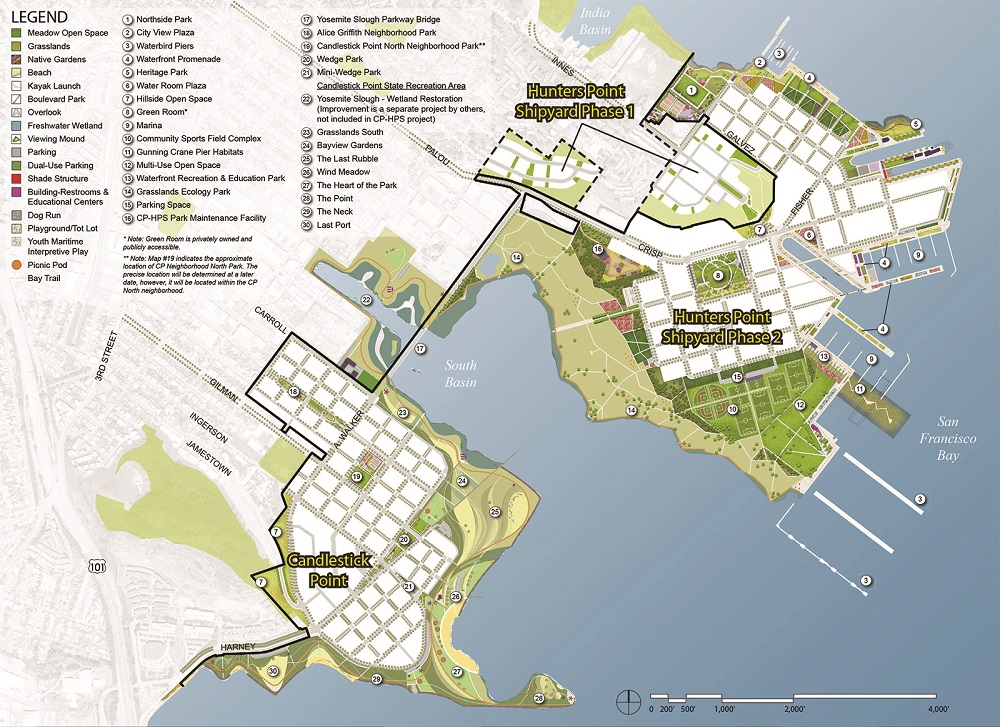 Community Parks. New neighborhood parks will serve existing and future neighborhood residents with places for community gathering and a broad range of outdoor recreation and leisure activities.
Cultural / Heritage Parks. Heritage Parks will relate the history of Hunters Point to visitors from throughout the Bay Area and beyond. Historic buildings will be retained and may be used as museum spaces.
Sports Field Complex. A new Community Sports Field Complex will help to meet the City's unmet demand for lit sports fields. The sports fields will accommodate youth, high school, and adult field sports and will be able to host regional tournaments.
Trails Network. The San Francisco Bay Trail / San Francisco Blue Greenway will provide a continuous recreational multi-use trail along the Candlestick and Hunters Point waterfront filling a gap in the regional network planned to eventually encircle the entire Bay. Similarly, kayak and windsurf launch points will enhance access to the regionally planned Bay Area Water Trail. For commuters and neighborhood cyclists, a secondary network of off-street multi-use trails will link parks and neighborhoods with the on-street bicycle network.
Candlestick Point State Recreation Area. Major renovation of the Candlestick Point State Recreation Area will transform it into the "Crissy Field" of southeast San Francisco with restored habitat areas and public access to the Bay.
Green Infrastructure and Urban Sustainability. Parks and open space will be designed as "green infrastructure" integrating urban design and infrastructure with natural systems. Elements of this system include ecological stormwater treatment systems, and streetside and boulevard parks.
Habitat Enhancements. New parks, open space, and habitat restoration areas will support the biodiversity and ecology of the San Francisco Bay shoreline. The plan features new native grasslands, wetlands, extensive planting of native trees and shrubs, and a net removal of bay fill.